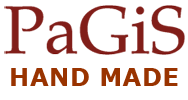 The expertise of Mr. George Pavlidis offers in the laboratory and the company the reputation of the specialist in customized handmade jewelry. The customized products are related to unique jewelry which were designed and made to meet the special requirements of the customer. The production extends to the creation of special prototypes, the well-known molds, which were planned to be used to produce jewelry to a wider scale, from other manufacturers.
The combination of expertise and inspiration allows the laboratory to move to the next step, the design and creation of unique jewelry with precious gem stones of 18 carats.
The laboratory is continuing to evolve by adding to its range a new product line, the pectoral crosses and amulets.
This new range targets the stores selling religious articles throughout Greece and Cyprus offering a unique design and a highest quality of workmanship . The design patterns of the laboratory follow the international fashion trends.
All the company's products bearing the brand PG are designed and made with passion and desire so that the final result will be excellent but at a reasonable price, satisfying the end customer for its look but for its cost as well.
The laboratory does not stop to be informed and to monitor with great interest and attention the industry's fairs, in Greece and abroad and at the same time the trends of the industry, without of course neglecting the economic parameters.